Just Released!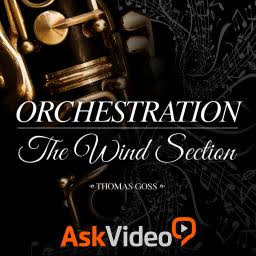 From the macProVideo website description: "The wind section is the most colorful section of the orchestra. In this course, you learn all about the instrument families, their techniques and articulations and how to score for them. So master the winds with our favorite maestro, Thomas Goss!
"The wind section is made up of several different families: the flutes, oboes, clarinets and bassoons and each family has its own, unique way of producing sound. This course's first section explains each family's playing characteristics including tone production, breathing, embouchure, fingering articulations and much, much more.
"Then, Maestro Goss opens up his orchestration guidebook and takes you on a scoring journey. It is in this section that you learn all about score positions, section sizes, seating plans, transposing instruments and registers."
This course will be followed by an in-depth video masterclass covering each woodwind instrument in great detail, along with their individual technique, repertoire, and orchestral functions in Orchestration Course 103: Wind Instruments, due for release in 2016.
Currently Available
Orchestration Master Class 101: The String Section
This course contains a thorough overview of the string section, with history, technique, and approaches to scoring. Information is supported by extensive diagrams, charts, and score samples performed by live solo players and a symphony orchestra.
Universal approaches of bowing, phrasing, vibrato, and hand positions are explored in detail, along with special effects like pizzicato, tremolo, and harmonics. Then each string instrument is studied individually, examining its unique characteristics and orchestral role.
The course finishes with an introduction to score-reading the string section, supplemented by an extensive list of suggested works, all of which are available for free download.
This series of courses was started after the 2011 release of Sibelius 7. My goal as a trainer is not to simply teach the procedures for creating a score – there are many free resources out there for Sibelius training available, especially from its parent company AVID. Rather, I wanted to show how a user could develop better instincts, a faster and more efficient workflow, and a more universal grasp of the application's capabilities and interface.
To accomplish this, I adopted a look-over-my-shoulder approach to training, and created content with the lesson built right into its process of notation. The courses start small, getting the student's feet wet with the basics of creating lead sheets, then gradually deeper with a piano score and a jazz quintet (and coming soon an orchestration project).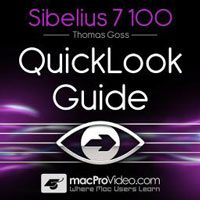 Sibelius 7 100: QuickLook Guide
This is a fast and easy way to cover the basics of note input, while exploring the menu ribbon. It's a good preview if you're switching over from Finale or from an earlier Sibelius version, but it's especially useful to a complete beginner to notation software.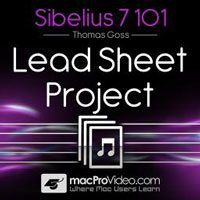 Sibelius 7 101: Lead Sheet Project
This course is designed to develop a natural, instinctive approach to navigation, note input, and basic editing. But it also explores many different interface options in detail, showing you how to adjust the application to your own strengths as a composer and arranger.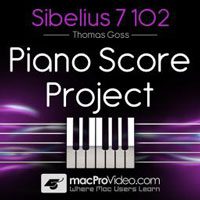 Sibelius 7 102: Piano Score Project
Here I dig deeper into Sibelius's features, covering grace notes, slurs, triplets, articulation, and dynamics. I also show you how to score trills, pedal marks and ottava, and then hear those marks realized as playback. Besides learning all these and more, I also continue underlining speed and efficiency of workflow, fitting those factors into a comprehensive approach to piano scoring.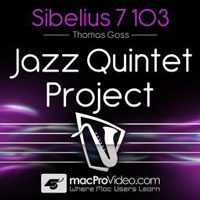 Sibelius 7 103: Jazz Quintet Project
This is a massive, 3.75-hour, 48-video course on scoring multi-instrumental, multi-movement works. Though the genre of the work is jazz, the training applies to all styles of instrumental scoring. Panorama view, transposing instruments, tabulature, drum set notation, capturing ideas, chord symbol transposition, and many more advanced topics are channeled into the workflow's pace and integrated approach.