A year ago I woke up in the heart of the dream factory on a Thursday morning, seven thousand miles from home. It was the day everything started to fall apart…
Orchestration Online In Hollywood
I was in California to visit family and to help launch my latest book, 100 MORE Orchestration Tips. The official launch party had gone swimmingly a couple of nights before at Los Angeles College of Music in Pasadena, with a healthy attendance of students, staff, and members of the orchestration community. The rest of the week had quickly filled up with meetings, presentations, and lectures. I was really looking forward to sharing what resources I could, and hanging out with good friends and colleagues in the short time I had left before flying up to San Francisco.
But alas, Covid happened. As I was blearily shaking off a good night's sleep and sitting up in bed to start polishing a speech to be delivered that weekend, events were moving quickly to a head in the wider world. Taking a minute to check my email, I found a message canceling the very event for which I was drafting my talk. A further check on news sites showed how quickly things were unravelling: sudden outbreaks in Europe and the USA, airport closures, and talks of impending lockdowns. In light of this, the organiser of another weekend event agreed with me that we should cancel that as well. And by the following evening, Air New Zealand was flying me home to Wellington, where I beat the cutoff for mandatory quarantine by a few hours (though I self-quarantined anyway for a couple weeks).
I was just as horrified as everyone else to see how quickly and inexorably life changed for everyone. Schools closed, businesses shut down, and a very long lockdown began. Despite pleas from our government not to hoard supplies, staples like beans, flour, and noodles emptied from shelves with alarming speed; and of course the sight of a trolley loaded with toilet paper pushed by a panicked shopper became a regular sight. But unexpected blessings arose as well. The constant background hum of activity died away to a peaceful stillness hanging over the city. Taking a sanctioned walk around the neighbourhood for exercise, I'd look out over the quiet, deserted streets from the hilltops behind our home, and feel the sense of calm that came with knowing everyone was hiding away safely in their homes.
Orchestrators Coping in Lockdown
Another unexpected blessing: how quickly the Orchestration Online community understood what they needed to do to make it through the coming year. I wrote and rewrote several abandoned video scripts and blog posts from the early lockdown days in which I made the case for us helping each other out even more strongly than before, and promoted the idea that we all should be taking the time during our isolation to improve our craft – in preparation for the eventual lifting of lockdowns and travel bans. But in the end I didn't need to. You all got that without me needing to say it, and I'm ever so grateful for how nearly everyone continued to bring their best over and over to our social media forums. Only time will tell, but I feel like many many careers may have gotten their start for developing composers during that time, in spite of our ongoing situation.
All the same, we had our share of illnesses and losses. Many of my personal friends in and out of the group came down with Covid even with the most careful isolation, and a kind of impotent apprehension overhung the efforts of our little social media circles to comfort and look after them from afar. We still don't know how many accounts that went dark were simply members who quietly dropped out; or other orchestration students and professionals who succumbed to the pandemic. But my heart goes out to everyone directly affected by Covid-19, and to the families of our members who are no longer with us. The fact that we don't know all their names doesn't mean that we don't honour them today, and feel the loss to the community.
As the person most responsible for what goes on with Orchestration Online, I made a decision to allow myself to become as busy with the work of the community as other long-term projects would allow. Some projects would have to be postponed anyway, like recording musicians for the upcoming macProVideo orchestration course on brass instruments. So I started a new lecture series on Debussy's La mer, and announced an earlier date for the 2020 Orchestration Challenge. The response to the latter was overwhelming – with 146 entries, many of them full-length submissions from Patreon supporters. And not a single entry felt boring, trivial, or a waste of time to me. I was delighted to go over every score in my inbox, though it took several months. All along the way, the Orchestration Online community was right by my side, adding hundreds of your own comments and tens of thousands of views to my video evaluations.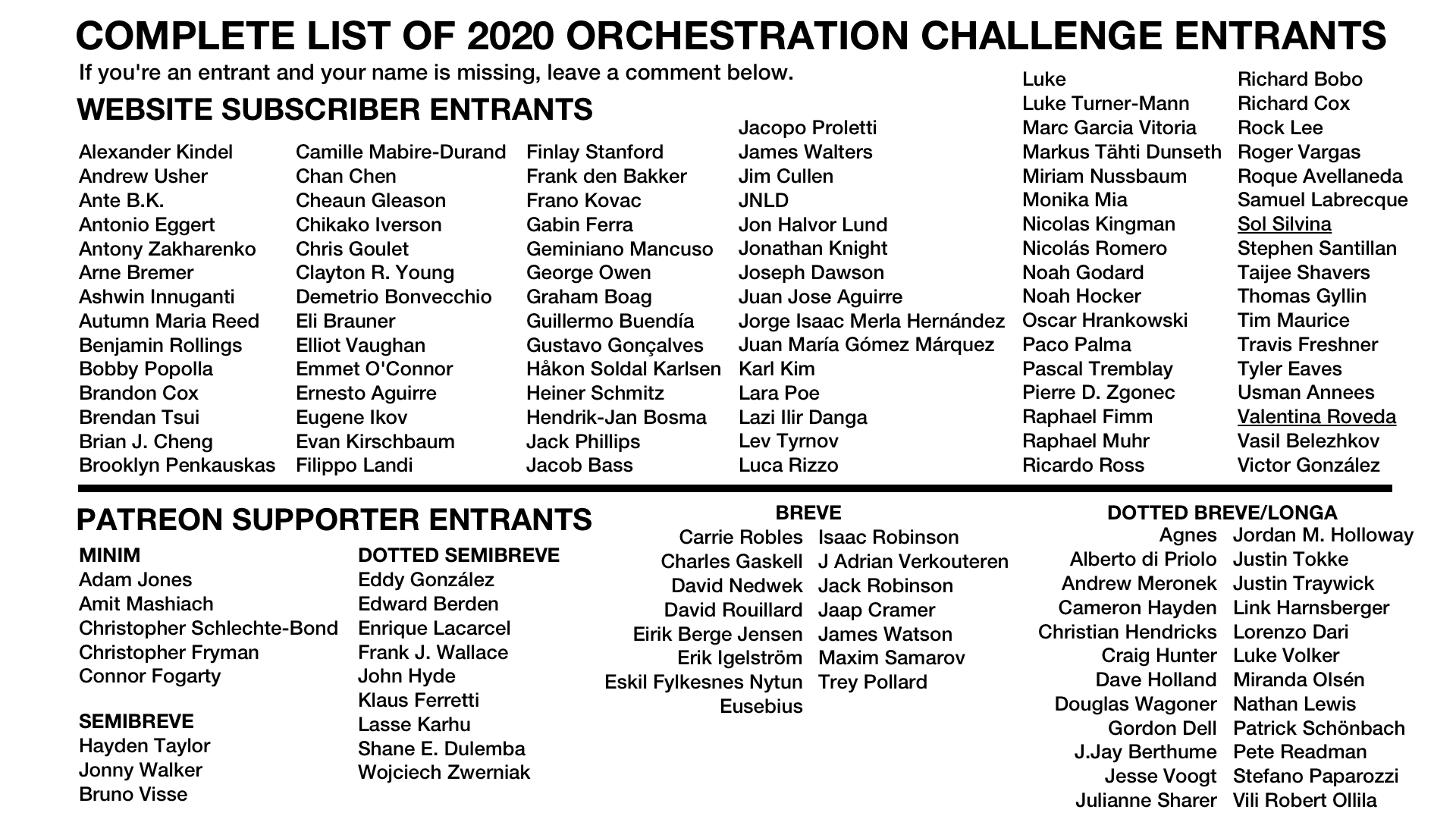 Reinventing the Wheel
The purpose of this article isn't to go through a long, blow-by-blow account of everything that's happened over the past year. But it's hard to get to the point without showing how we were caught off guard, but then rallied together in the best way possible – by orchestrating music and improving our craft while projects and education were on hold.
Of course, eventually the restrictions will lift – and in fact, it has mostly lifted here in New Zealand, where quarantining at the border and an extensive early lockdown essentially nipped Covid in the bud. So my experience here as a working composer/orchestrator may serve as something of a model for how things will gradually reinvent themselves for the rest of our world. Let's focus on that for the rest of this article.
The first situation I would posit is that performing arts organisations will take hesitant, limping steps in reestablishing themselve. As the husband of a professional orchestra member and orchestra librarian, I witnessed first-hand the toll of concert cancellations, rescheduling, and then further cancellation as temporary lockdowns came and went unexpectedly. We're still in that situation here in New Zealand, with an increase of restrictions happening every six weeks or so (probably due to essential workers helping manage visitors in quarantine becoming exposed themselves). These cancellations are going to hurt already crippled organisations, so you just have to be patient. The ensembles and artistic scenes that survive are going to be the ones that have the most support on the ground. A very wise example of this is the orchestra I work with most frequently, Orchestra Wellington. Their conductor Marc Taddei's daring, inspired programming has always gone hand-in-hand with the sense that their audience was an involved community of listeners – with the result that their concerts have some of the largest attendance numbers here in New Zealand. The end result was a relationship that so far appears to be willing to abide the cancellations and reschedulings (and remarkably, their entire 2020 subscription season was eventually performed). That's a best-case scenario. You can expect that many struggling orchestras, both larger and smaller, will need all the patience their audiences can give them before really getting started again. Any part you can play that will keep them on track will eventually help your own career down the road.
We have also seen that professional musicians have been getting a lot of work by recording in isolation, then having their tracks mixed in the studio. We witnessed an extreme example of this with our own member Laura Karpman's thrilling score to the series Lovecraft Country, which featured an entire orchestra of isolated musicians in its soundtrack. Other Orchestraton Online members are trying this approach with their projects with great results – though often it's dependent simply on the musician's ability to competently record themselves, and here results may vary widely. Nevertheless, I would say that if you can trust the musicians on that account, and you're ready to make a recording in that way, it would be better to do it now (as of March 2021) than to try to organise a live session during the limping stop-and-start rejuvenation to come in a few months. Just really make sure you have all your ducks in a row before taking your shot.
Xmas Concert & the Return of the Harp Concerto
Professionally, I was able to move certain projects up to compensate for other projects moving back due to Covid. I also incorporated some of my original music and orchestrations into various educational projects in a way that kept me creatively fulfilled. That's a strategy I've seen a lot of other Orchestration Online community members put into action with good results. Toward the end of 2020, things started to move here with New Zealand clients. Orchestra Wellington commissioned a basket of Xmas arrangements from me – one of those situations in which the work comes in more and more as the librarian attempts to fill certain holes in the available shelf of usable scores. Usually, this kind of work will come months in advance (we typically get posts in July from members talking about Xmas charts); but in this case, it was a concert that came together as the stray elements that go into a masterful performance became available. So that's something I'd predict as well for other orchestrators – you may find last-minute work coming at you more frequently, upon which a lot of income for the performers is resting. Additional songs may be added one after another, with the rehearsal just days around the corner.
Of course, that kind of programming can be risky in many ways, not the least of which is availability of certain key musicians. And that may result in additional adjusting and rescoring of some parts in these situations. For my Xmas arrangements, I bridged between songs; rescored some existing arrangements to simplify some transitions;, changed keys to fit some singers better; and added, subtracted, and substituted different parts. From the performance that I witnessed along with the audience reaction, I'd allow that I did my job well this time. I was lucky to not only have a terrific group of orchestral players, but also Marc once again at the baton, along with an excellent rhythm section, pro solo vocalists, and the Pasifika choral group Signature Choir who brought their sincere flavour of talent once again into Orchestra Wellington concerts.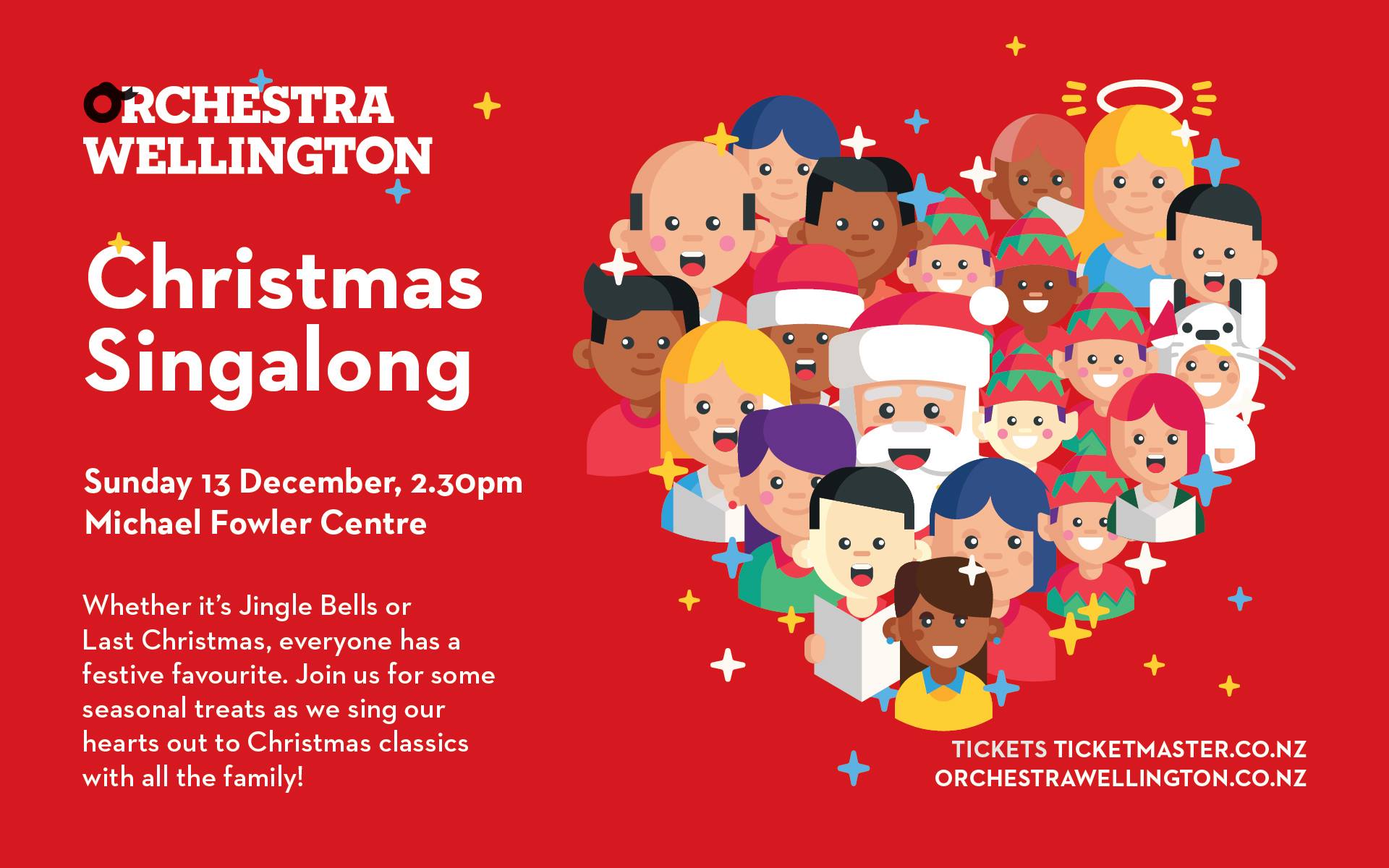 Something else quite wonderful occurred at the concert. My 12-year-old son, who's expressed zero interest in playing music despite having pros on both sides of the family going back four generations, suddenly told me as we were watching the concert that he was quite interested in learning the piano. I don't know if this would have happened had he not seen me working on these arrangements and then gone to such an immediately enjoyable concert that was the result of that work – not to mention watching the brazenly competent pianist, who'd been booked at the virtually the last minute as a stand-in. (My son's now taking lessons from me and is hugely enjoyable to teach.) A rather funny epilog to this whole affair was me realising at the end of the concert that I hadn't really gone out to see anything in about a year, and I was essentially wearing the kind of lockdown schmate in which I'd been lounging around the house. That's okay, so were half the people in the audience.
Around the same time, I was approached by the principal harpist of the Auckland Philharmonia with an interest to perform movements from my harp concerto. APO wanted to programme several performances of the second movement, while the third movement would be performed by a topnotch student harpist (at a semipro-to-pro level) at APO's Summer School with an orchestra made up of students and pro orchestra players. I would not have gotten this gig had the soloist Ingrid not viewed the cadenza of the concerto as posted on my channel; and had the work not been lodged with SOUNZ, the Centre for New Zealand Music. If there is any organisation like this where you live, whether at a purely regional level in large countries or a national level in smaller countries, then you should really lodge works with them, because that is how serious orchestras often find repertoire for certain special kinds of concerts. So this yet another possible way to move forward post-Covid as restrictions start to loosen. This attention seriously raised the profile of the work, and I've received more serious queries into staging it here in New Zealand.
Thus it was that after a long-needed Southern Hemisphere summer holiday from Xmas through most of January, I found myself in Auckland for the New Zealand premiere of my harp concerto's third movement "Deep Blue" at the Town Hall. The musicians did incredibly well under the direction of David Kay, especially the soloist Jennifer Zhang. I've shared the audio from that afternoon along with score images for my Patreon supporters to view. At this point, more and more work has started to trickle in, including adapted intermediate-to-beginner parts for big play-along-with-the-orchestra events planned with Orchestra Wellington (The Big Bash) and APO (Community Play In) in the coming months. Soon, some delayed projects are also going to come back to life as well.
All the People Who Made a Career Possible This Year and More…
Somehow, I made it through this confusing time and managed to keep my head above water. That's not to say that it was easy and that I'm some kind of genius – rather, even though in a lot of ways I got lucky (especially just in living here in New Zealand), I still worked harder than I've ever worked on my career over the past 16 months (especially as a writer and educator). And there have been times when I wished I was a lot smarter and wiser. But fortunately, other people stepped in to help me along. The biggest thanks go to my fellow Facebook admins Sam Hayman and Henry Cooper; Sam Hayman once again in his tireless managing of our website and our community resources; the canny skills of my musical fact-checker and assistant Bret Newton; all my supporters on Patreon for helping me keep a flow of much-needed content to developing composers on the internet; Maestro Marc Taddei, GM Kirsten Mason, and all the other staff and musicians of Orchestra Wellington; harpists Ingrid Bauer and Jennifer Zhang, conductor David Kay, all the musicians from the Summer School, and the musicians and staff of the Auckland Philharmonia (especially Thomas Hamill and Felicity McKenzie from APO Connecting); my faithful editor JF Brissette and producer Steve Horelick at macProVideo; David Das, Reuven Herman, Karim Elmahmoudi, Norman Ludwin, Larry Goldman, Tim Davies, Conrad Pope, Michael Lee, Brett Perry, Jehan Stefan, and all my other colleagues and friends in L.A. who've opened doors for me and supported my work as an orchestration educator; my other clients and colleagues here in New Zealand and around the world who will soon be working with me again as events allow; and of course my wife Erica, my children Charlie, Aura, and Miranda, and all my other friends and family across the world. It takes a lot of other people to make a career for a professional creative musician. Every career is like tapestry interwoven with many others – and when you step back and look at it all, it should defy any easy quantification. With that I've been blessed, and I never have a day in which I'm not humbled and thankful as I understand how much I owe to others. If that's not a way forward right now, I don't what is.
And finally, so very very many thanks to you, my Orchestration Online community members (and especially those who have been doubling as essential workers). Your artistic development and fulfilment is my primary aim here on this website, on social media, and on Patreon. I'm not competing with you in any way – in fact, I hope that more and more well-trained composers and orchestrators will continue to make their own opportunities in conjunction with more and more capable musicians, not to mention artists in film, theatre, dance, and other fields. We have all gone through a huge shock to the system – and many organisations have gone under or are on life support. We're being tested by loss and tragedy, and yet I'm hopeful that most of us will be able to restore a lot of what was lost, and reinvent what cannot be revived. In that quest, I will be here alongside you as we look toward the challenges that lie ahead.
Yours very truly,
Thomas Goss