Use the tuba's innate strengths of range and phrasing to craft an ideal orchestral solo.
Solo tuba is a bit rare in the standard repertoire. The scarcity is due to several factors, like lack of opportunity for low-register soloing in the plan of a score; unfamiliarity with the tuba's technique and solo tone; and the failure to think about it at all. There's a tendency to pigeon-hole lower brass instruments into standardized roles. Trombones and tuba are rarely asked to solo, or even stand out in a progressive texture for their own sake.
However, there are some great composers who were quite fond of the tuba, and gave it a lot to do. One such is Prokofiev, whose tuba solos in his ballet Romeo & Juliet, his 5th Symphony, and several other works are exemplary models – so much so that they're almost never left out of an audition list. When you're composing your own tuba parts or solos, you couldn't do worse than to study Prokofiev's approach.
In the first excerpt (taken right off a website's tuba audition call, *ahem*) from Prokofiev's 5th Symphony, the tuba player is basically soloing, but with some doubling by lower strings to leaven the tone (one could always balance it the other way, putting the tuba behind the strings, but this is almost never done). Note how the first two expressive arcs match their respective melodic curves, putting the weight of the phrases into the upper middle register. Each phrase ends with some notes in the lower register, that flare as they finish downwards. For the rest of the part, note how it's mostly pitched in the lower register, with heavily articulated notes, and one middle register slur. Prokofiev is scoring to the tuba's strengths here. It's far easier to slur in the middle register, and to separately articulate lower, more reluctant notes.
In the second excerpt, from my own personal copy of the Prokofiev Violin Concerto No. 1 pocket score, movt. 3, fig. 53, the tuba plays another string-accompanied solo under the cascading violin part. I once heard the great Floyd Cooley of SFSO warming up during the interval before performing this in support of Sarah Chang. As discrete as the tuba can be, and even with the marking of p (as is everyone on these pages, except for lower strings at mp), Floyd's playing was extremely penetrating and focused (I could feel my eardrums flexing). The solo is one of Prokofiev's best, IMO. The register is exactly right – the lower notes and first couple ledger lines of the bass staff. The upward walk is unslurred, allowing for a careful articulation on each note that pushes percussively at the overall texture. And each group of gestures ends with a progressively firmer and more effective downward jump.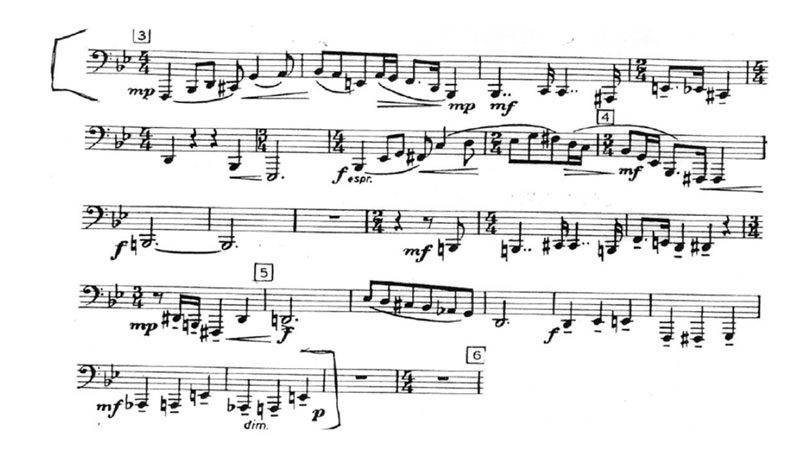 In tomorrow's video tip, I'll be discussing one of the most well-known tuba solos in all the repertoire, from "Mars" in Gustav Holst's "The Planets."